Natural Supplements To Help Support Psychedelic Therapy
OK, so you're giving psychedelic therapy a go, congratulations on taking the leap. Before diving in, though, there's a lot of prep necessary, and things to do to prepare your mind and body. From which ones to choose and what type of treatment works best, to potential psychedelics side effects and downtime. And that's only a few things worth noting.
But did you know there are natural supplements that not only support psychedelic therapy, but also help deal with the side effects? Seriously. Plus, some of these help with potential anxiety over whether or not therapy will work.
So what natural supplements could be helpful before trying psychedelics therapy? Below are 23 to consider.
Microdosing to help with sleep or anxiety: Calm is the first legal and natural microdosing product to help with both. Buy it here!
Lion's Mane
One of the most powerful medicinal mushrooms, the lion's mane mushroom is a gorgeous looking big ball of white fluff that got worldwide attention for its incredible impact on brain health and the effect on the overall nervous system.
Containing not one, but two nerve growth factors (hericenones and erinacines), lion's mane stimulates regeneration and remyelination (by producing more myelin – a compound which coats and protects our nerves) of the nerves. This makes it a promising tool against Alzheimer's, Parkinson's, MS, nerve damage, anxiety and depression.
Studies show its incredible impact on dealing with anxiety and depression, which is one of the main reasons why lion's mane is so important when it comes to psychedelic therapy. Some even suggest combining it with psilocybin and niacin or vitamin B3 to "allow your brain to make new connections, get a healthier brain and mentally 'clean up' yourself."
It's easy to find in most drugstores in the form of a pill, but also comes as a powder to add to smoothies, adaptogenic drinks, coffee, and even bone broth. Specialty stores or the farmer's market are often good places to purchase.
RELATED: There are Surprising Studies on Psychedelics for IBS and Lyme Disease
Cod Liver Oil
Known for centuries and used to help treat rheumatism, aching joints, and stiff muscles, as well as protect from the cold, cod liver oil is rich in vitamins A, D, and omega-3 fatty acids. This makes it an amazing natural supplement that can be a great daily addition to anyone's diet.
Cod liver oil has been linked with decreasing anxiety and depression. This makes it a perfect ally combat mental health issues often associated with psychedelic therapy. When taken in conjunction with a psychedelic, it can potentially have a greater impact and give you better results. It is available in both pill form or even in pure oil.
Green Tea
Loaded with antioxidants, green tea helps fight free radicals, lowers overall inflammation, and protects against oxidative damage. It also contains high levels of caffeine and L-theanine, both of which stimulate dopamine. These also increase the activity of the inhibitory neurotransmitter GABA, which has anti-anxiety effects.
When combined together, caffeine and L-theanine have powerful effects in improving brain function, and are therefore amazing additions to psychedelic therapy, nourishing the brain while in treatment.
When choosing green tea, look for the source and always try to get loose leaf versions. This helps avoid any unnecessary additives and potential toxins. Additionally, it is available in pill form — which is better for larger doses.
Vitamin D
Also called the "sun vitamin", vitamin D is a fat-soluble vitamin which is typically obtained from the sun's UV rays. This triggers vitamin D synthesis to penetrate the skin's barrier. It's also present in some foods, but in very small quantities which are hard to absorb by our bodies.
Due to indoor lifestyles and changing seasons, more people are becoming deficient in vitamin D. That's why so many recommend some sort of natural supplement. The actual dosage that an individual needs can be tested through specific vitamin D tests. These are often available over-the-counter.
Vitamin D promotes calcium absorption in the gut and it's crucial for bone growth and bone remodeling. Without sufficient vitamin D, bones can become thin, brittle, or misshapen. It also reduces inflammation as well as promotes cell growth, improves neuromuscular and immune function, and helps manage glucose metabolism.
Since deficiency can lead to depression and anxiety, adding it to your psychedelic treatment can help you go through the session with ease and support potential side effects.
It often comes as a supplement in pill form, and uses IU (international units) for measurement. The number of IUs one needs comes after taking the vitamin D deficiency test.
Probiotics
Probiotics are extremely important supplements. They help nourish the gut flora and feed microbiome by replenishing it with good bacteria, eliminating the bad bacteria.
They usually contain high doses of Lactobacillus and Bifidobacterium strains, the most common bacteria which reside in our gut. These all may have a different impact on the body. While some may help absorb or digest a certain food, others coat the gut lining or prevent from a specific illness. That's why all probiotic supplements contain many different strains which when working together yield the best results.
Many consider the gut to be a "second brain", with the connection to our actual brain much stronger than we think. It nourishes it with healthy microorganisms and keeps it thriving for our mental health. This is especially true for levels of dopamine and serotonin.
Since it improves brain function and helps with anxiety or depression, it may be helpful to try with psychedelic therapy. That's why taking them regularly while attending sessions may bring added benefits in the long run.
If giving psychedelic therapy a go, get all the tools available to support the journey along the way. The five natural supplements above are easy to encounter, easy to take, and may lead to a better psychedelic experience.
RELATED: Reishi Mushroom (Ganoderma Lucidum)
Maitake Mushroom (Grifola Frondosa)
The maitake mushroom (Grifola frondosa) is a polypore mushroom. This means it forms large fruiting bodies, which feature pores or tubes on the underside. It is native to China, Europe, and North America. 'Maitake' is the Japanese term for the mushroom, which means "dancing mushroom". This is supposedly because when it was discovered, people danced with joy, owing to the mushroom's healing properties.
Maitake mushrooms are rich in:
Antioxidants
Beta-glucans
Vitamins B and C
Copper
Potassium
Fiber
Minerals
Amino acids
These mushrooms are also:
Fat-free
Low in sodium
Low in calories
Cholesterol-free
These nutritional facts make maitake mushrooms extremely healthy. But they also offer a range of potential medical benefits, including:
By improving your physical health with the use of this functional mushroom, you will feel better before embarking on a psychedelic journey.
If you have diabetes, you should consult with your doctor before using maitake mushrooms. This is because maitake may have an effect on your blood sugar. Also, it can lower blood pressure. So, if you have hypotension (low blood pressure), make sure you discuss any plans to use maitake with your doctor first.
Find Ketamine and Psychedelic Therapy Clinics By State
In addition to the geo-targeted listings above, we try to make it easy to find the best ketamine clinics near you with this handy state-by-state breakdown. And it's all in alphabetical order. While ketamine is legal in the United States, the number of clinics vary from state to state.
Kratom Powder
Kratom refers to the leaves of the plant Mitragyna speciosa, which belongs to the coffee plant family Rubiaceae. It has a long history of use in Southeast Asia, where it has been used to treat various ailments, as well as induce stimulant effects. The plant is native to Indonesia, Malaysia, and Thailand.
Kratom leaves have traditionally been chewed, crushed and brewed into a tea, or smoked. Nowadays, they are dried and ground into a powder.
Kratom leaves used to make kratom powder contain more than 40 active compounds, but mitragynine and 7-hydroxymitragynine are the two main ones. These are the ones responsible for kratom's effects.
In small doses between 1-5 g, kratom acts as a stimulant and appears to increase energy, causing people to feel more alert and social.
In higher doses between 5-15 g, kratom appears to have a sedative effect, similar to that of opioid pain relievers, such as morphine and codeine. This effect causes people to feel tired, calm, and euphoric.
Research suggests that kratom may offer the following benefits:
If kratom can improve your well-being and reduce your feelings of physical pain, then this can prepare you well for a psychedelic experience. It may even enhance your experience when you are already tripping. However, you should be aware of the dosage and know that the stimulant or opioid effects of kratom can become quite noticeable during a trip.
Kratom is restricted in many countries because there is no evidence that the plant is safe or effective for treating physical or psychological issues. In addition, there is data that has led to concerns about the risks and abuse potential of kratom. Indeed, some people do become addicted to kratom.
If combining kratom with psychedelics, you should always begin with a small dose, so you can get a sense of how the two types of drugs interact.
Kratom Tea
Kratom tea is traditionally made by brewing the leaves of Mitragyna speciosa, which can be either fresh or dried and ground into a powder.
Here's how you can make kratom tea.
What You Need:
3 cups of water
Kratom powder
Sweetener (e.g. sugar or agave syrup)
Process:
Bring the water to a boil in a saucepan.
Remove the water from the stove and add the kratom powder. Reduce heat and simmer for 15 minutes. You can steep the tea for a shorter period for a mild tea.
Strain out the kratom powder.
Add your sweetener of choice to the tea.
Serve at room temperature.
You can also make iced tea by adding ice cubes.
Many people enjoy kratom tea for its natural pain-relieving properties and ability to elevate mood. This also means that the tea can pair nicely with a psychedelic experience, helping to improve your mindset before the trip begins, or modifying the experience while it's underway.
However, you should be aware that kratom can cause side effects like dehydration, constipation, loss of appetite, nausea, and increased urination.
Lastly, if you become addicted to kratom, you can experience withdrawal upon cessation of use. Withdrawal symptoms include muscle aches, irritability, and low mood. If you're experiencing kratom withdrawal, you definitely don't want to throw a psychedelic into the mix.
Turkey Tail Mushroom (Trametes Versicolor)
The Turkey Tail mushroom (Trametes versicolor) is a common polypore mushroom found all over the world. Versicolor means "of several colors", which accurately describes the appearance of Turkey Tail mushrooms. The mushroom has earned the name "Turkey Tail" because its shape and multiple colors resemble those of a wild turkey.
Turkey Tail mushrooms contain polysaccharides, which can offer a number of health benefits. Because of these benefits, T. versicolor is used in Traditional Chinese Medicine (TCM), as well as in the form of supplements.
Turkey Tail mushrooms can offer the following benefits:
Turkey Tail mushrooms can strengthen your immune system. This is important if you're preparing for a psychedelic experience and you want to feel as physically well as possible before going in. Using functional mushrooms can be one way to prevent you from catching any nasty viruses that may interfere with your plans to participate in psychedelic therapy.
Turkey Tail mushrooms are considered safe to consume. Researchers report few side effects in studies. Nonetheless, some individuals do experience digestive symptoms like gas, bloating, and dark stools when consuming Turkey Tail mushrooms. You should, therefore, try consuming them on their own first. You certainly don't want to experience unpleasant physical symptoms while you're tripping.
Shiitake Mushroom (Lentinula Edodes)
You will be familiar with the shiitake mushroom as a staple ingredient in Asian cuisine. But this savory mushroom has some surprising medicinal properties as well, which is why it is used in TCM, as well as in the form of supplements.
Shiitake mushrooms are native to East Asia, but they are now cultivated and consumed around the world. The mushroom's Japanese name shiitake is made up of shii (for the tree Castanopsis cuspidata that provides the dead logs on which the mushroom is cultivated) and take ("mushroom"). In terms of the mushroom's scientific name, edodes is the Latin word for "edible".
Shiitake mushrooms are low in calories, yet they have an impressive nutritional profile:
Calories: 44
Carbohydrates: 11 g
Fiber: 2 g
Protein: 1 g
Riboflavin: 11 percent of the Daily Value (DV)
Niacin: 11 percent of the DV
Copper: 39 percent of the DV
Vitamin B5: 33 percent of the DV
Selenium: 10 percent of the DV
Manganese: 9 percent of the DV
Zinc: 8 percent of the DV
Vitamin B6: 7 percent of the DV
Folate: 6 percent of the DV
Vitamin D: 6 percent of the DV
Shiitake mushrooms also contain polysaccharides, terpenoids, sterols, and lipids. Some of these may provide a number of beneficial effects, including:
As with other functional mushrooms, consuming shiitake mushrooms can protect your overall immunity and physical health, which will prepare you physically and mentally for a psychedelic experience.
You should be aware, however, that in rare cases, consumption of raw or slightly cooked shiitake mushrooms may cause an allergic reaction called "shiitake mushroom dermatitis". This involves a rash occurring all over the body, including the face and scalp. This is thought to happen because of the presence of the polysaccharide lentinan. Cooking the mushroom thoroughly may eliminate this risk, nonetheless.
Furthermore, using powdered shiitake mushroom extract over a long period of time may cause other side effects, including stomach upset and sensitivity to light. You want to first know that you respond fine to shiitake mushrooms before using them to improve your overall health.
Cordyceps Mushroom (Cordyceps Sinensis)
The Cordyceps mushroom (Ophiocordyceps sinensis, formerly known as Cordyceps sinensis) belongs to the genus Cordyceps, which includes some 600 species of fungi. This mushroom is an entomopathogenic fungus (a fungus that grows on insects), and belongs to the family Ophiocordycipitaceae. It is mainly found in meadows above 3,500 meters (11,500 ft) on the Tibetan Plateau in Southwest China and the Himalayan regions of Bhutan and Nepal.
The Cordyceps mushroom also goes by the name of caterpillar fungus. This mushroom may offer a range of benefits, including:
Nonetheless, you should be aware that a lot of the research on the Cordyceps mushroom is limited to animal or lab studies. This makes it difficult to draw conclusions about the effects of this mushroom on people.
Using the Cordyceps mushroom alongside other functional mushrooms can help further improve your physical health. Again, looking after your physical health is important when preparing yourself for a psychedelic session.
There are no studies available on the safety of the Cordyceps mushroom in humans. However, the fungus has a long history of use in TCM.
Chaga Mushroom (Inonotus Obliquus)
The chaga mushroom (Inonotus obliquus) is a fungus belonging to the family Hymenochaetaceae. It is parasitic on birch and other trees.
The sterile conk of the mushroom has an irregular shape and resembles burnt charcoal. This conk is not the fruiting body of the fungus but a sclerotium (mass of mycelium). It is mostly black to the high quantities of melanin present.
For centuries, people in Russia and Northern European countries have used chaga as a traditional medicine, mainly as a way to boost immunity and overall health. But its use as a medicinal supplement has spread all over the world.
It's important to note that most studies on chaga are rodent or test-tube studies. So the results may not necessarily translate to human consumption of the mushroom. Nonetheless, research indicates that chaga extract may provide a number of health benefits, including:
It's important to look after your overall physical and mental health before embarking on a powerful psychedelic journey. Using chaga extract as a natural supplement can be helpful in this respect.
It is unlikely that you would experience any side effects after consuming chaga. However, if you have a general mushroom allergy, then you should obviously avoid it. And this applies to all the other functional mushrooms mentioned in this article.
Research in humans is still necessary, but animal research suggests that chaga extract may interfere with insulin, blood-sugar-lowering medication, and anticoagulant and antiplatelet drugs.
Reishi Mushroom (Ganoderma Lucidum)
Reishi mushroom (Ganoderma lucidum), known as lingzhi in Chinese, has a long history of use for promoting health and longevity in China, Japan, and other Asian countries. It is a large, dark mushroom with a glossy exterior and a woody texture.
The mushroom grows in hot and humid locations. However, due to its irregular distribution in the wild and increasing demand for reishi, cultivation has become the major source of the mushroom.
Reishi mushrooms contain several molecules — including triterpenoids, polysaccharides, and peptidoglycans — that may be responsible for their health benefits. Research suggests that reishi can offer the following:
The potential of reishi mushrooms to reduce fatigue, irritability, and depression is important in the context of psychedelic therapy. This is because how you feel in the days leading up to a psychedelic experience — and on the day of the session — can affect the quality of the trip.
Of course, people with severe depression can have positive and euphoric experiences, despite going into their journey with depressed mood. However, if a natural supplement like reishi can help combat feelings of tiredness and irritability before a psychedelic session, this will make it even more likely that you will have a pleasant and enjoyable experience.
You should be aware of the potential side effects of consuming reishi mushrooms, however. Research has revealed that those who consumed reishi for four months were nearly two times as likely to experience a side effect as those taking a placebo.
Nonetheless, side effects were minor and included a slightly increased risk of nausea and insomnia. You should be aware that many studies of reishi have not reported safety data, so there is limited information in this area overall.
Banded Mottlegill Mushrooms (Panaeolus Cinctulus)
Panaeolus cinctulus (or the banded mottlegill mushroom) is a lesser-known species of psilocybin mushroom. This is despite the fact that it is widely distributed in the world. It is one species of psilocybin mushroom that — along with Panaeolus cyanescens ("blue meanies") — is categorized under the genus Panaeolus.
Unlike the genus Psilocybe, Panaeolus includes many mushroom species that are non-psychedelic (meaning they don't contain psilocybin and psilocin).
Banded mottlegill mushrooms can cause a variety of perceptual, emotional, physical, and mystical effects. Research has also shown that the psilocybin contained in these mushrooms can be helpful in the treatment of various mental health issues, including:
Major depression
Treatment-resistant depression
End-of-life anxiety in patients with terminal cancer
Smoking addiction
Post-traumatic stress disorder (PTSD)
Obsessive-compulsive disorder (OCD)
Banded mottlegill mushrooms, like other psilocybin mushrooms, are not strictly considered 'natural supplements'. Nevertheless, many people like to 'supplement' their psychedelic experiences with additional psychedelics, including psilocybin mushrooms. This is to modify, enhance, or intensify their trips.
However, one should be aware that, in the context of psychedelic therapy, combining psychedelic substances is not currently practiced, nor have clinical trials been published on it. The exception is a clinical trial underway looking at the effects of combining MDMA with LSD (known as "candy flipping").
Also, in the past, the psychedelic chemist Sasha Shulgin recommended the combination of MDMA and 2C-B for therapeutic purposes.
It's possible that supplementing compounds like MDMA, LSD, or DMT with banded mottlegill mushrooms may improve mental health outcomes, due to the way it enhances or intensifies psychedelic effects. There's also a chance that this combination could lead to overwhelming, confusing, or challenging experiences.
Oyster Mushroom (Pleurotus Ostreatus)
The oyster mushroom (Pleurotus ostreatus), also known as hiratake or the pearl oyster mushroom, is a common edible mushroom. It is widespread in many temperate and subtropical forests throughout the world.
The oyster mushroom is a delicacy in Japanese, Korean, and Chinese cuisine. Many people also consume oyster mushrooms or supplements made from them for their medicinal benefits.
Oyster mushrooms are packed with fiber, vitamins, minerals, and other important nutrients. They're also low in carbohydrates.
Here's the nutritional content of one cup (86 g) of raw oyster mushrooms:
Calories: 28
Carbs: 5 g
Protein 3 g
Fat: < 1 g
Fiber: 2 g
Niacin: 27 percent of the DV
Pantothenic acid (vitamin B5): 22 percent of the DV
Folate: 8 percent of the DV
Choline: 8 percent of the DV
Potassium: 8 percent of the DV
Iron: 6 percent of the DV
Phosphorus: 8 percent of the DV
Zinc: 6 percent of the DV
Research has shown that oyster mushrooms can provide the following:
Oyster mushrooms can be another great natural supplement to take when preparing for psychedelic therapy. The greater variety of functional mushrooms you take, the better you can maintain your overall physical health and well-being.
You should be aware that oyster mushrooms contain osterolysin, a toxic protein.
Animal studies have found that this protein may cause respiratory issues and increase arterial blood pressure. However, its effects on humans are unknown. Oyster mushrooms may also trigger symptoms of hypersensitivity pneumonitis, an inflammation of small airways in the lungs, resulting in fever, joint pain, and chills.
Consuming oyster mushrooms in large quantities could trigger stomach problems such as nausea, flatulence, diarrhea, or stomach rumbling. Therefore, one should know how you react to oyster mushrooms and avoid consuming too many of them or supplements made from them. You obviously want to minimize your chances of experiencing physical discomfort during a psychedelic experience.
Kambo
Kambo is the secretion of a tropical frog, Phyllomedusa bicolor, otherwise known as the giant leaf frog or giant monkey frog. This species of frog is native to the Amazon rainforest.
Kambo is a poisonous substance and the indigenous peoples of the Amazon have used it in a ceremonial context for centuries. Kambo cleansing, kambo circle, or kambo ceremony refer to the rituals involving the substance. The poison is also known as sapo (from the Portuguese and Spanish, meaning "toad").
An increasing number of Westerners are joining kambo ceremonies. They are often offered alongside psychedelic retreats that include ayahuasca and San Pedro ceremonies. Retreat organizers claim that kambo offers medicinal benefits, including relief from:
Addiction
Depression
Chronic pain
Anxiety
Cancer
Alzheimer's disease
Diabetes
Hepatitis
HIV and AIDS
Infections
Infertility
Rheumatism
Vascular conditions
However, there is a lack of evidence supporting these purported benefits of kambo. Bryan Kuhn, a toxicology management specialist and pharmacist, has said, "There's no evidence to support any therapeutic benefits for any medical condition. Period. End of story."
Also, the effects of kambo can be unpleasant. They include:
Intense nausea
Vomiting
Diarrhea
Loss of bladder control
Edema (swelling) of the lips, eyelids, or face
Headaches
Tachycardia (a heart rate that exceeds the normal resting heart rate)
Abdominal pain
Dizziness
A feeling of a lump in the throat
Trouble swallowing
Some people may combine kambo with psychedelics, but this can be unpleasant and risky. It's not recommended or included as an additional substance to take before or during psychedelic therapy.
Along with the intense and unpleasant effects that often come from a kambo ceremony, the risks of the substance include:
Severe and prolonged vomiting and diarrhea
Dehydration
Muscle spasms and cramps
Seizures
Jaundice
Confusion
Scarring
Kambo has also been linked to toxic hepatitis and organ damage (i.e. to the liver, kidney, and pancreas). In an isolated number of users, kambo can result in death, which is usually due to negligence or contraindication.
Puffball Mushroom (Calvatia Gigantea)
Calvatia gigantea, commonly known as the giant puffball mushroom, grows in meadows, fields, and deciduous forests. It typically grows in late summer and autumn and is found in temperate areas throughout the world. The giant puffball mushroom can be used in cooking, as well as for its medicinal benefits.
A puffball mushroom is a type of fungus featuring a ball-shaped fruit body that bursts on impact, releasing a cloud of dust-like spores when mature. Calvatia comes from the Latin calvus, meaning "bald" while gigantea comes from the Greek gigantas, meaning "giant".
Giant puffball mushrooms offer a range of benefits, including:
If you want to feel physically healthy before a psychedelic experience, then adding a giant puffball mushroom supplement to your daily routine can be beneficial. Also, since this mushroom can reduce blood sugar levels, this fungus may be especially helpful for people with diabetes who are preparing for psychedelic therapy.
Most puffball mushrooms are not poisonous, including the giant puffball (even when eaten raw). However, it can resemble young poisonous mushrooms such as the death cap. So you need to ensure you're able to identify mushrooms correctly in the wild.
Going foraging with an expert is a good idea if you're nervous about picking a poisonous lookalike. Also, while puffball mushrooms are edible when immature, they can cause digestive upset if eaten when mature.
You can minimize the risks of consuming Calvatia gigantea, however, by using a high-quality extract instead of picking the mushrooms yourself.
CBD
Cannabidiol (CBD) is the second most prevalent active ingredient in cannabis, of which there are hundreds. The most prevalent one is tetrahydrocannabinol (THC), which is responsible for the 'high' that smoking or consuming cannabis produces.
While CBD is an essential component of medical cannabis, it is derived directly from the hemp plant or manufactured in a laboratory. Hemp plants and cannabis plants are both the same species (Cannabis sativa). Hemp refers to any strain of Cannabis sativa that contains 0.3 percent THC or less.
In cannabis plants, CBD alters the effects of the THC high. In high doses, THC can induce paranoia and psychotic-like symptoms. The addition of CBD, however, helps to buffer these effects, often creating a more mellow and enjoyable experience. This occurs because CBD has antipsychotic effects.
The CBD industry is booming in many countries, with products including oils, tinctures, drinks, creams, gummies, and capsules. You can even buy CBD weed that looks and smells like normal weed. Like the other CBD products, however, this weed will contain less than 0.3 percent THC (or less than 0.2 percent THC, depending on the country).
The effects of CBD include increased relaxation, calmness, and sedation. These effects increase the higher the dose. There are animal and human studies indicating that CBD can offer the following benefits:
For those who don't like to smoke cannabis while tripping (since it can intensify psychedelic effects or make the experience more negative), CBD can be a great alternative.
CBD may help minimize the negative effects of psychedelics, such as anxiety, psychotic-like symptoms, and difficulty sleeping. However, CBD is not typically used during psychedelic therapy, although you may find that using this compound beforehand or after may allow you to feel more relaxed.
Possible side effects of CBD can include nausea, fatigue, drowsiness, dry mouth, and reduced appetite. So you may want to limit your dose if combining CBD with psychedelics. Also, sometimes, the scientific evidence relating to CBD can fail to match the way that CBD products are marketed.
Kava
Kava is a crop of the Pacific Islands, which has the scientific name Piper methysticum (from the Latin term for "pepper" and the Latinized Greek for "intoxicating"). The root of kava is traditionally used to produce a drink, the active ingredients of which are called kavalactones.
The effects of kava drink will largely depend on the variety of the plant used (as this can involve differing compositions of kavalactones). The method of consumption and age of the plant can have an influence on the effects, too.
In general, noble kava (a popular variety of the plant) produces a state of calmness, relaxation, and well-being without diminishing cognitive performance. Kava may produce an initial talkative period, followed by muscle relaxation and eventual sleepiness.
Contemporary users of kava also describe the following effects:
Contentment
Sharpened senses
Enhanced memory
Easy flow of conversation
Reduced agitation
Studies suggest kavalactones can:
Since kava can reduce anxiety and increase feelings of relaxation and well-being, then it's possible that it can put you in a positive mindset prior to a psychedelic experience. It may also help steer a difficult trip in a more positive direction or help you sleep if you're feeling restless and stimulated after a trip.
However, since kava has psychoactive effects, combining it with a psychedelic may not always have the desired outcome.
The side effects of consuming high levels of kava include weight loss, nausea, loss of appetite, indigestion, sore red eyes, and loss of sex drive.
Problems arising from long-term use of kava drink may include:
Breathing difficulties
Visual changes, including sensitivity to light (photophobia)
Slight alterations to blood cells, including white and red blood cells, and platelets
Liver damage
Compromised immune function
Kidney damage
Contact dermatitis — causing a scaly, flaky rash on the skin
Appetite loss, leading to malnutrition and weight loss
Loss of drive and motivation
Enokitake Mushroom (Flammulina Filiformis)
The enokitake mushroom (Flammulina filiformis) is an agaric (gilled mushroom) species belonging to the family Physalacriaceae. The mushroom is well known for its use in Japanese cuisine (the name enokitake is the Japanese term for it).
These mushrooms are widely cultivated in East Asia. They are also known as "golden needle mushrooms".
There is a difference in appearance between wild and cultivated enokitake mushrooms. Cultivated specimens are not exposed to light, which results in white or pallid fruit bodies with long stipes and small caps.
Flammulina filiformis is rich in a variety of nutrients. One cup (65 g) of raw enokitake mushrooms contains:
Calories: 24
Protein: 2 g
Fat: 0.2 g
Carbs: 5 g
Fiber: 2 g
Niacin: 29 percent of the DV
Pantothenic acid: 18 percent of the DV
Thiamin: 12 percent of the DV
Riboflavin: 10 percent of the DV
Copper: 8 percent of the DV
Folate: 8 percent of the DV
Phosphorus: 6 percent of the DV
Enokitake mushrooms are rich in niacin (which promotes brain health), vitamin B5 (which helps synthesize fatty acids), and thiamine (which regulates the function of nerve cells).
Research has also found the following potential benefits of consuming enokitake:
These wide-ranging benefits can help make you physically well and energized before psychedelic therapy.
Nonetheless, uou should be aware that enokitake mushrooms can carry some risks.
One study has suggested that enokitake consumption may cause increased activity of plasma creatine kinase. This can have damaging effects on both skeletal and cardiac muscle. Some people will have an allergic reaction to enokitake mushrooms.
In addition, there are reported cases of people experiencing anaphylaxis (severe hypotension, or low blood pressure) after consuming these mushrooms. However, this reaction is rare.
Mandrake Root
Mandrake (Mandragora officinarum) is a poisonous plant with documented use stretching back to antiquity. It was first used as a weapon, a surgical anesthetic, a fertility treatment, and an aphrodisiac. While it is not commonly used for medical purposes today, interest has risen in mandrake root as a potentially psychoactive plant.
The mandrake root is part of the Solanaceae family, commonly known as the nightshades. This family contains some of humanity's most beloved food crops, like tomatoes, potatoes, and eggplants, as well as some of its most poisonous, like deadly nightshade, jimsonweed, belladonna, and henbane.
Mandrake root contains the alkaloids scopolamine, hyoscyamine, and atropine, among others. These chemicals have psychoactive and anticholinergic effects.
Hyoscyamine can treat gastrointestinal tract disorders but is also prescribed for Parkinson's, irritable bowel syndrome, and allergic rhinitis, among other conditions. Scopolamine can alleviate nausea or motion sickness.
However, it is also used as a deliriant that, when blown into a victim's face, can make that person highly submissive and compliant (which is why its street name is "devil's breath"). Atropine is used for pupil dilation, arrhythmia, and as a treatment for the ingestion of toxic cholinergics, including mushrooms.
There really isn't much reason to use mandrake root in combination with a psychedelic. You certainly won't find a psychedelic therapist who recommends it.
While this plant may help treat a physical condition you have, which can make any trip more comfortable, the psychoactive effects may not be desirable.
Scopolamine, for instance, could counteract psychedelic-induced nausea, but it also carries with it unpleasant physical and psychological side effects. Also, in doses high enough, the alkaloids contained in mandrake root can lead to anticholinergic poisoning, which can result in hyperthermia, rhabdomyolysis, delirium, visual hallucinations, disability, and death.
San Pedro Cactus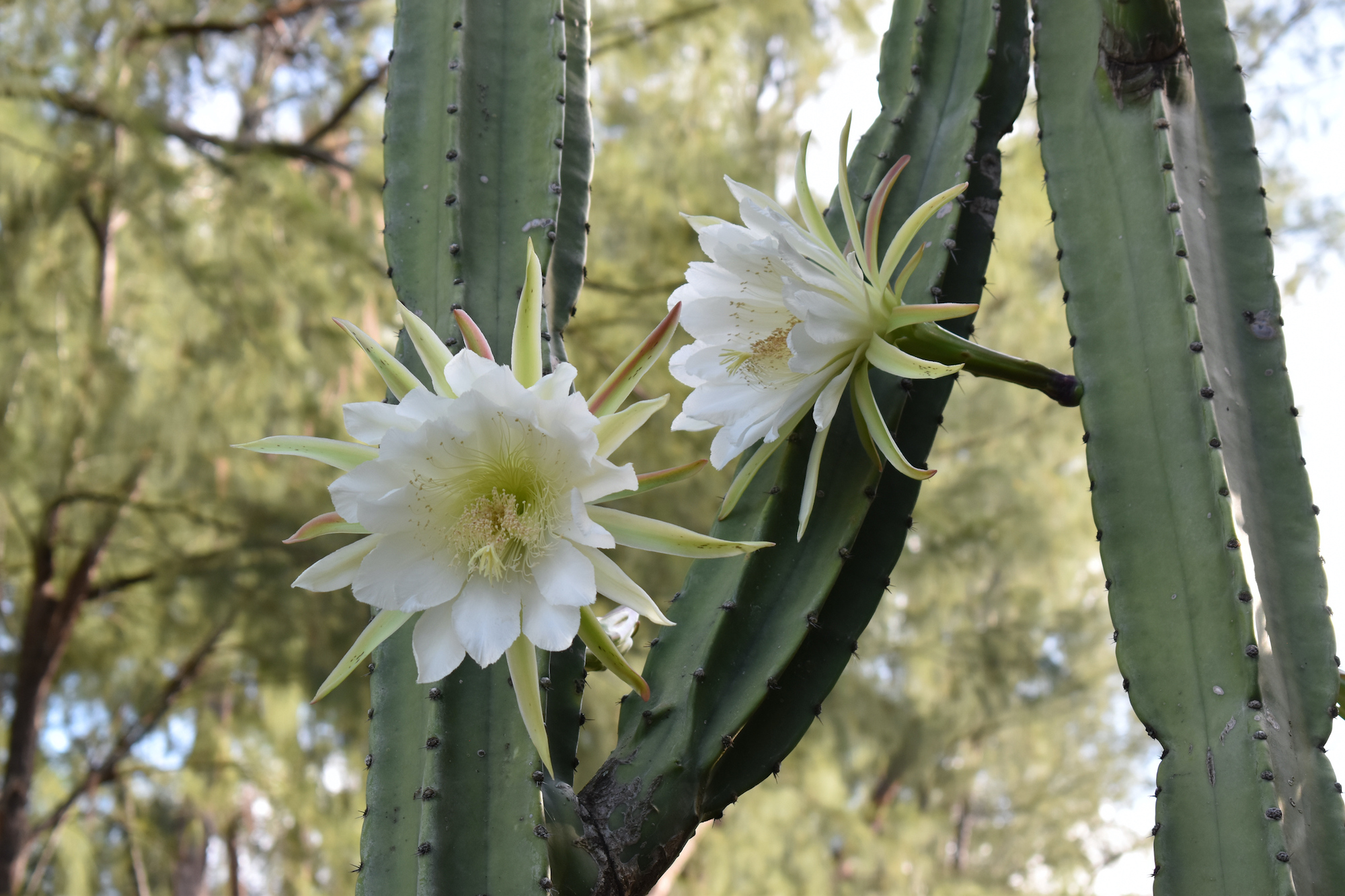 San Pedro cactus (Echinopsis pachanoi) is an entheogenic cactus with association to the shamanic ceremonies of ancient Andean cultures. These days, its popularity has increased due to the psychedelic effects and healing potential of mescaline, an alkaloid present in the plant.
This fast-growing cactus is native to the Andes mountains in South America. It grows naturally in dry landscapes at altitudes ranging from 1,000 to 3,000 meters above the sea level, mainly in Peru and Ecuador, but also in Argentina, Bolivia, Colombia and Chile.
San Pedro contains highly variable concentrations of mescaline, a psychedelic compound that acts on serotonin and dopamine receptors producing several psychedelic effects. These effects include experiencing different senses of time and self-awareness, facilitated introspection, and alterations in the thinking processes and perception.
San Pedro cactus would not strictly be considered a 'natural supplement' to take alongside another psychedelic, but some people do benefit from this addition.
Mescaline is known to be more gentle, lucid, and physically euphoric compared to other classic psychedelics. This is because it is a phenethylamine compound, which MDMA is as well. Many people compare mescaline to a combination of MDMA and LSD.
However, using mescaline alongside another psychedelic doesn't guarantee a positive trip. When you throw any additional psychedelic into the mix, effects can become intensified or modified. If you want to use psychedelics for therapeutic purposes, it's generally recommended to stick to one psychedelic.
Changa
Changa is a smoking blend that contains N,N-Dimethyltryptamine (DMT) and monoamine oxidase inhibitors (MAOIs). Changa can contain other herbs but DMT mixed with MAOIs is essential.
Smoking changa is becoming an increasingly popular way to use DMT. The more typical methods of consuming DMT are by vaporizing the crystalline substance on its own or orally (via ayahuasca).
Many psychonauts prefer changa over freebase DMT for several reasons. It can offer a smoother, more grounded, longer, and less confusing or overwhelming experience. However, that's not to say that a changa experience will necessarily be less profound. With the right dosage, you can still experience a 'DMT breakthrough': entry into what feels like another world.
Many people like to smoke changa while on another psychedelic, such as LSD, psilocybin, or mescaline. This can make it easier to achieve a DMT breakthrough since you're already 'elevated', and perhaps already in the mindset of 'letting go' and not resisting what happens.
However, a powerful psychedelic like DMT is not typically provided in the context of psilocybin-assisted therapy, for instance. You should also be aware that smoking changa while already tripping can lead to an unexpectedly strong and extended DMT experience. For some, this might be overwhelming.